ESTUDIO COMPARATIVO MORFOLÓGICO Y MORFOMÉTRICO PARA LA DETERMINACIÓN DE SEXO EN MANDÍBULAS HUMANAS
Palavras-chave:
Mandíbula, Dimorfismo sexual, Odontología Forense, Antropología forense
Resumo
Introducción: En la especie humana, las diferencias obedecen a variaciones biológicas ligadas a los caracteres sexuales, conducta socio-cultural y epigenética en cada grupo poblacional. Estas variaciones biológicas entre sexos se analizan desde el punto de vista morfológico. Algunos estudios refieren que la morfometría, relacionando el tamaño y forma del esqueleto humano, conduce a resultados más fidedignos y reproducibles. Objetivo: comparar los caracteres morfológicos y morfométricos de los detalles anatómicos propios de la rama mandibular para determinar el sexo en mandíbulas humanas, en dos poblaciones venezolanas. Materiales e métodos: la muestra fue 16 mandíbulas encontradas como hallazgo fortuito en el 2004 (Población A) y 08 mandíbulas humanas procedentes de la Colección de paleodemográfica, constituida por restos óseos de la población del yacimiento del Valle de Quíbor (Edo. Lara) (Población B). Posteriormente, fueron analizadas morfológico y métricamente, empleando los puntos de referencia anatómicos o PAR/Lamarck, y valoradas en el paquete estadístico SSPS (versión 19). Resultados: la rama mandibular es una muestra confiable para la discriminación sexual, después del análisis morfológico y métrico, de los 16 individuos procedentes de la población A, 07 corresponden con los criterios femeninos y 09 a masculinos. En la muestra de 08 individuos procedente de la población B, se identificaron 03 individuos femeninos y 05 masculinos. Conclusiones: el uso de métodos morfológico e morfométrico siguen siendo necesarios como primer paso para el reconocimiento de individuos en las ciencias forenses. No obstante, fue más efectivo la discriminación sexual mediante los parámetros morfométricos en relación al método morfológico.
Referências
Hoover KC, Williams F. Variation in regional diet and mandibular morphology in prehistoric Japanese hunter–gatherer–fishers. Quaternary international. 2016; 405: 101-9. https://doi.org/10.1016/j.quaint.2015.01.030
Loth SR, Henneberg M. Mandibular ramus flexure: a new morphologic indicator of sexual dimorphism in the human skeleton. American Journal of Physical Anthropology: The Official Publication of the American Association of Physical Anthropologists. 1996; 99(3): 473-85. https://doi.org/10.1002/(SICI)1096-8644(199603)99:3%3C473::AID-AJPA8%3E3.0.CO;2-X
Sassi C, Picapedra A, Caria P, Ferreira H, Groppo F, Francesquini J. et al. Comparación Antropométrica entre Mandíbulas de las Poblaciones Uruguaya y brasileña. Int J Morphol. 2012; 30(2): 379-87. http://dx.doi.org/10.4067/S0717-95022012000200003
Charalampakis A, Kourkoumelis G, Psari C, Antoniou V, Piagkou M, Demesticha, T, Troupis T. The position of the mental foramen in dentate and edentulous mandibles: clinical and surgical relevance. Folia morfológica. 2017; 76(4): 709-14. http://dx.doi.org/10.5603/FM.a2017.0042.
David C, Gamboa Y, Diaz Y. Sexual dimorphism of the human mandible literature review. Acta bioclinica. 2016; 6 (12): 122-45 http://erevistas.saber.ula.ve/index.php/actabioclinica/article/view/7738.
Menéndez L, Lotto F. Comparación de técnicas para determinar el sexo en poblaciones humanas: estimaciones diferenciales a partir de la pelvis y el cráneo en una muestra de San Juan, Argentina. Revista Ciencias Morfológicas. 2014; 15(1). https://revistas.unlp.edu.ar/Morfol/article/view/842
García‐Campos C, Martinón‐Torres M, Martín‐Francés L, Martínez de Pinillos M, Modesto‐Mata M, Perea‐Pérez B. et al. (2018). Contribution of dental tissues to sex determination in modern human populations. American Journal of Physical Anthropology, 166(2), 459-72. https://doi.org/10.1002/ajpa.23447
Amin W. Assessing Ramus Dimorphism of Jordanian Mandibles. American Journal of Medical and Biological Research. 2018: 1(6):1-6. http://dx.doi.org/10.12691/ajmbr-6-1-1.
Chang SP, Yang Y, Shi LQ, Liu YW, Liu Y, Ma Q. Modification of the measurement of the major variables in mandibular condylar fractures: angulation of sidewards displacement and shortening of the height of the ramus. British Journal of Oral and Maxillofacial Surgery. 2018; 2(56): 113-9. https://doi.org/10.1016/j.bjoms.2017.12.003
Alias A, Ibrahim A, Abu Bakar S, Swarhib Shafie M, Das S, Abdullah N, Noor H, Liao IY, Mohd Nor F. Anthropometric analysis of mandible: an important step for sex determination. Clin Ter. 2018; 169 (5): e217-23. http://dx.doi.org/10.7417/CT.2018.2082.
Udokrenzer. Compendio de métodos antropológico forenses para la reconstrucción del perfil osteo-biológico. Serie de Antropología Forense. Tomo 1. Ciudad de Guatemala, Guatemala; 2006
Inski S, Scheib C, Wilder Wohns A, Ge X, Kivisild T, Robb J. Evaluating macroscopic sex estimation methods using genetically sexed archaeological material: The medieval skeletal collection from St John's Divinity School, Cambridge. Am J Phys Anthropol. 2018; 1–12. https://doi.org/10.1002/ajpa.23753
Byrnes J, Kenyhercz M, Berg G. Examining Interobserver Reliability of Metric and Morphoscopic Characteristics of the Mandible. Journal of Forensic Sciences. 2016; 62(4): 981–5. http://dx.doi.org/10.1111/1556-4029.13349.
Klales A, Kenyhercz, M. Morphological Assessment of Ancestry using Cranial Macromorphoscopics. Journal of Forensic Sciences. 2014; 60(1): 13–20. http://dx.doi.org/10.1111/1556-4029.12563.
Ribeiro, C., Sanches, L., Alonso, G. Y Smith, L. (2015). Shape and symmetry of human condyle and mandibular fossa. Int.J. Odontostomat. 2015; 9(1):65-72.
Tunis T, Sarig R, Cohen H, Medlej B, Peled N, May H. Sex estimation using computed tomography of the mandible. International Journal of Legal Medicine. 2017; 131(6):1691–1700. http://dx.doi.org/10.1007/s00414-017-1554-1.
Ritzman T, Terhune C, Gunz P, Robinson CA. Mandibular ramus shape of Australopithecus sediba suggests a single variable species. J Hum Evol. 2016; 100:54-64. http://dx.doi.org/10.1016/j.jhevol.2016.09.002.
Raj JD, Ramesh S. Sexual dimorphism in mandibular ramus of south Indian population. Antrocom Online Journal of Anthropology. 2013; 9: 253-8.
Bejdová Š, Krajícek V, Velemínská J, Horák M, Velemínský P. Changes in the sexual dimorphism of the human mandible during the last 1200 years in Central Europe.HOMO-Journal of Comparative Human Biology. 2013; 64(6), 437-53. https://doi.org/10.1016/j.jchb.2013.05.003
Sharma M, Gorea RK, Gorea, A, Abuderman A. A morphometric study of the human mandible in the Indian population for sex determination. Egyptian Journal of Forensic Sciences. 2016; 6(2): 165-9. https://doi.org/10.1016/j.ejfs.2015.01.002
Hazari P, Hazari RS, Mishra SK, Agrawal S, Yadav M. Is there enough evidence so that mandible can be used as a tool for sex dimorphism? A systematic review. Journal of forensic dental sciences. 2016; 8(3): 174. http://dx.doi.org/10.4103/0975-1475.195111.
Krishan K, Chatterjee PM, Kanchan T, Kaur S, Baryah N, Singh RK.A review of sex estimation techniques during examination of skeletal remains in forensic anthropology casework. Forensic science international. 2016; 261: 165. e1-165. e8. https://doi.org/10.1016/j.forsciint.2016.02.007
Akhlaghi M, Khalighi Z, Vasigh, S, Yousefinejad V. Sex determination using mandibular anthropometric parameters in subadult Iranian samples. Journal of forensic and legal medicine. 2014; 22: 150-3. https://doi.org/10.1016/j.jflm.2013.12.006
De Oliveira FT, Soares MQS, Sarmento VA, Rubira CMF, Lauris, JRP, Rubira-Bullen, IRF. Longitud de la rama mandibular como indicador de edad cronológica y sexo. Revista Internacional de Medicina Legal. 2014; 129(1), 195-201. http://dx.doi.org/10.1007/s00414-014-1077-a.
Saini V, Srivastava R, Rai R, Shamal SN, Singh TB, Tripathi, SK. Mandibular ramus: an indicator for sex in fragmentary mandible. 2010; 56, S13 – S16. http://dx.doi.org/10.1111/j.1556-4029.2010.01599.x.
Alarcón J, Bastir M, Rosas A. Variación del dimorfismo sexual mandibular a través de patrones faciales humanos. Homo, 2016, 67(3): 188-202.
Sandeepa NC, Ganem AA, Alqhtani W A. Mandibular Indices for Gender Prediction: A Retrospective Radiographic Study in Saudi Population. 2017; 7: 2.
Indira A, Markande A, David M. (2012). Mandibular ramus: An indicator for sex determination - A digital radiographic study. Journal of forensic dental sciences. J Forensic Sci Dent. 2012; 4(2): 58-62. https://dx.doi.org/10.4103%2F0975-1475.109885
Fan Y, Penington A, Kilpatrick N, Hardiman R, Schneider P, Clement J, et al. Quantification of mandibular sexual dimorphism during adolescence. Journal of anatomy.2019; 234(5), 709-17. https://doi.org/10.1111/joa.12949
Miralles M, Marín, M. Santa Lucía de Mucuchíes 1586- 1903. Tomo 2. Mérida, Venezuela: Archivo Arquidiocesano de Mérida- AAM, colección pueblos y parroquias de los Andes; 1999.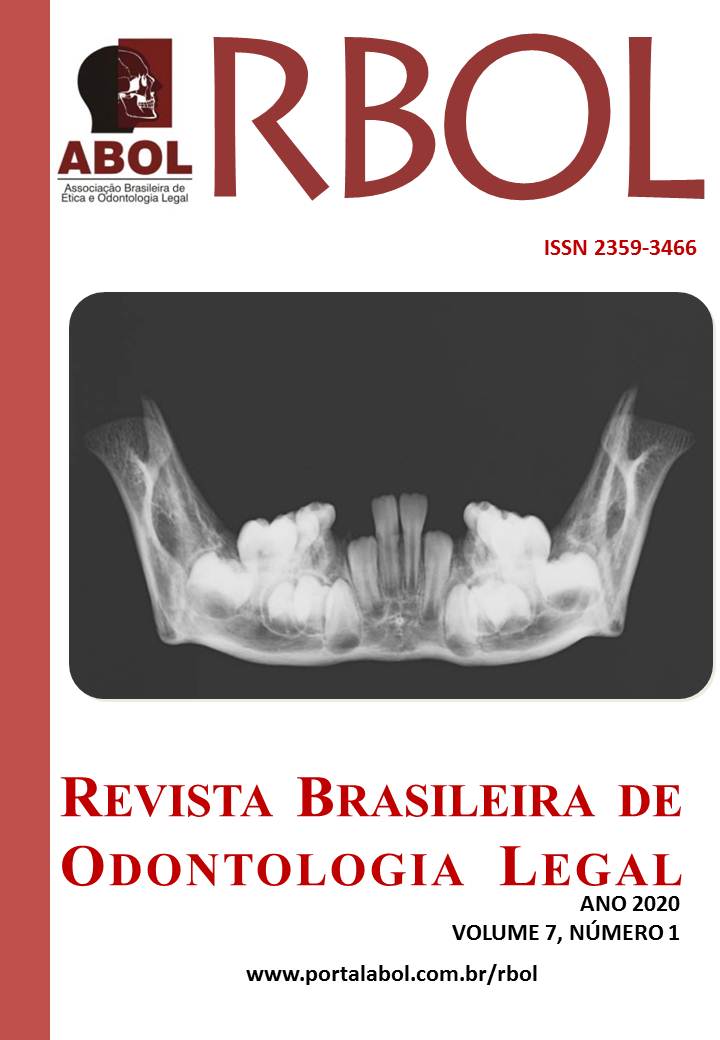 Downloads
Licença
Os autores deverão encaminhar por email, devidamente assinada pelos autores ou pelo autor responsável pelo trabalho, a declaração de responsabilidade e transferência de direitos autorais para a RBOL, conforme modelo abaixo.
DECLARAÇÃO DE RESPONSABILIDADE E TRANSFERÊNCIA DE DIREITOS AUTORAIS



Eu (Nós), listar os nomes completos dos autores, transfiro(rimos) todos os direitos autorais do artigo intitulado: colocar o título à Revista Brasileira de Odontologia Legal - RBOL.
Declaro(amos) que o trabalho mencionado é original, não é resultante de plágio, que não foi publicado e não está sendo considerado para publicação em outra revista, quer seja no formato impresso ou no eletrônico.
Declaro(amos) que o presente trabalho não apresenta conflitos de interesse pessoais, empresariais ou governamentais que poderiam comprometer a obtenção e divulgação dos resultados bem como a discussão e conclusão do estudo.
Declaro(amos) que o presente trabalho foi totalmente custeado por seus autores. Em caso de financiamento, identificar qual a empresa, governo ou agência financiadora.
Local, data, mês e ano.
Nome e assinatura do autor responsável (ou de todos os autores).