IMPORTANCE OF DENTAL RECORDS AND PANORAMIC RADIOGRAPH IN HUMAN IDENTIFICATION: A CASE REPORT
Palavras-chave:
Forensic Dentistry, Forensic Anthropology, Dental Records, Panoramic Radiographies
Resumo
Forensic dentistry is important in human identification because it analyses individual characteristics present in the teeth of each individual based on comparison. The aim of this work is to highlight the importance of the correct documentation made by the dentist and to present a case solution using panoramic x-ray. To carry out the report, dental charts and panoramic radiography were used for comparison with dental examination of a female body remains. The wrong notation of charts, made by the dentist, almost leaded to an exclusion identification. Due to panoramic x-ray made nine years before the death, a positive identification could be made. That fact emphasized the importance of attention when charts are being filled out.
Referências
Krishan K, Kanchan T, Garg AK. Dental Evidence in Forensic Identification - An Overview, Methodology and Present Status. Open Dent J. 2015;9:250-6. http://dx.doi.org/10.2174/1874210601509010250.
Argollo SP, Argollo BP, Argollo PAN, Marques JAM. Utilização da rugoscopia palatina para identificação de corpo carbonizado - Relato de caso pericial. Rev Bras Odontol Leg RBOL. 2016;4(1):107-13. http://dx.doi.org/10.21117/rbol.v4i1.54.
Sweet D, DiZinno JA. Personal identification through dental evidence--tooth fragments to DNA. J Calif Dent Assoc. 1996; 24(5): 35-42.
Ata-Ali J, Ata-Ali F. Forensic dentistry in human identification: A review of the literature. J Clin Exp Dent. 2014; 6(2):e162-7. http://dx.doi.org/10.4317/jced.51387.
Metcalf RD, Klim-Lemann J. Overview of Forensic Odontology. J Calif Dent Assoc. 2015;43(6): 295-301.
Scoralick RA, Barbieri AA, Moraes ZM, Francisquini Junior LF, Daruge Junior E, Naressi SCM. Identificação humana por meio do estudo de imagens radiográficas odontológicas: relato de caso. Rev Odontol UNESP. 2013;42(1):67-71. http://dx.doi.org/10.1590/S1807-25772013000100012.
International Organization for Forensic Odonto-Stomatology. The forensic odontology report: Quality assurance 2008 [cited 2017 June]. Available from: http://www.iofos.eu/Quality-Ass/Report-IOFOS.htm.
Franco A, Thevissen P, Coudyzer W, Develter W, Van de Voorde W, Oyen R, et al. Feasibility and validation of virtual autopsy for dental identification using the Interpol dental codes. J Forensic Leg Med. 2013; 20(4):248-54. http://dx.doi.org/10.1016/j.jflm.2012.09.021.
Sweet D. Forensic dental identification. Forensic Sci Int. 2010; 201(1-3):3-4. http://dx.doi.org/10.1016/j.forsciint.2010.02.030.
Charangowda BK. Dental records: an overview. J Forensic Dent Sci. 2010; 2(1):5-10. http://dx.doi.org/10.4103/0974-2948.71050.
Biancalana RC, Vieira MGDM, Figueiredo BMJ, Vicente SAF, Dezem TU. Desastres em massa: a utilização do protocolo de DVI da Interpol pela odontologia legal. Rev Bras Odontol Leg RBOL. 2015; 2(2):48-62. http://dx.doi.org/10.21117/rbol.v2i2.38.
Modesti LD, Vieira GM, Galvao MF, de Amorim RF. Human identification by oral prosthesis analysis with probability rates higher than DNA analysis. J Forensic Sci. 2014;59(3):825-9. http://dx.doi.org/10.1111/1556-4029.12404.
Adams BJ, Aschheim KW. Computerized Dental Comparison: A Critical Review of Dental Coding and Ranking Algorithms Used in Victim Identification. J Forensic Sci. 2016; 61(1):76-86. http://dx.doi.org/10.1111/1556-4029.12909.
Avon SL. Forensic odontology: the roles and responsibilities of the dentist. J Can Dent Assoc. 2004; 70(7):453-8.
Tinoco RL, Martins EC, Daruge EJ, Daruge E, Prado FB, Caria PH. Dental anomalies and their value in human identification: a case report. J Forensic Odontostomatol. 2010; 28(1):39-43.
Nomir O, Abdel-Mottaleb M. A system for human identification from X-ray dental radiographs. Pattern Recognit. 2005; 38(8):1295-305.
Tsuchiya MJ, Gomes EM, Abe DM, Oliveira FVN, Massaoka C, Oliveira RN. Human identification through the analysis of dental records registered in the context of a Dental Institution. Rev Gaucha Odontol. 2013;61(3):389-93.
Hinchliffe J. Forensic odontology, Part 1. Dental identification. B Dent J. 2011; 210(5):219-24. http://dx.doi.org/10.1038/sj.bdj.2011.146.
Du Chesne A, Benthaus S, Teige K, Brinkmann B. Post-mortem orthopantomography - an aid in screening for identification purposes. Int J Legal Med. 2000; 113(2):63-9. https://doi.org/10.1007/PL00007710.
Silva RF, Nunes FG, Faria Neto JC, Rege ICC, Daruge Júnior E. Forensic importance of panoramic radiographs for human identification. Rev Gaúcha Odontol. 2012;60(4):527-31.
American Board of Forensic Odontology. ID & Bitemark Guidelines. 2017. p. 179. https://abfo.org/resources/id-bitemark-guidelines/.
Silva RF, Dias PEM, F.F. P, Rodrigues LG, Mundim MBV, Franco A. Inconsistências antropológicas observadas em corpo putrefeito identificado por registros odontológicos - Relato de caso pericial. Rev Bras Odontol Leg RBOL. 2015; 2(1):125-36. http://dx.doi.org/10.21117/rbol.v2i1.25.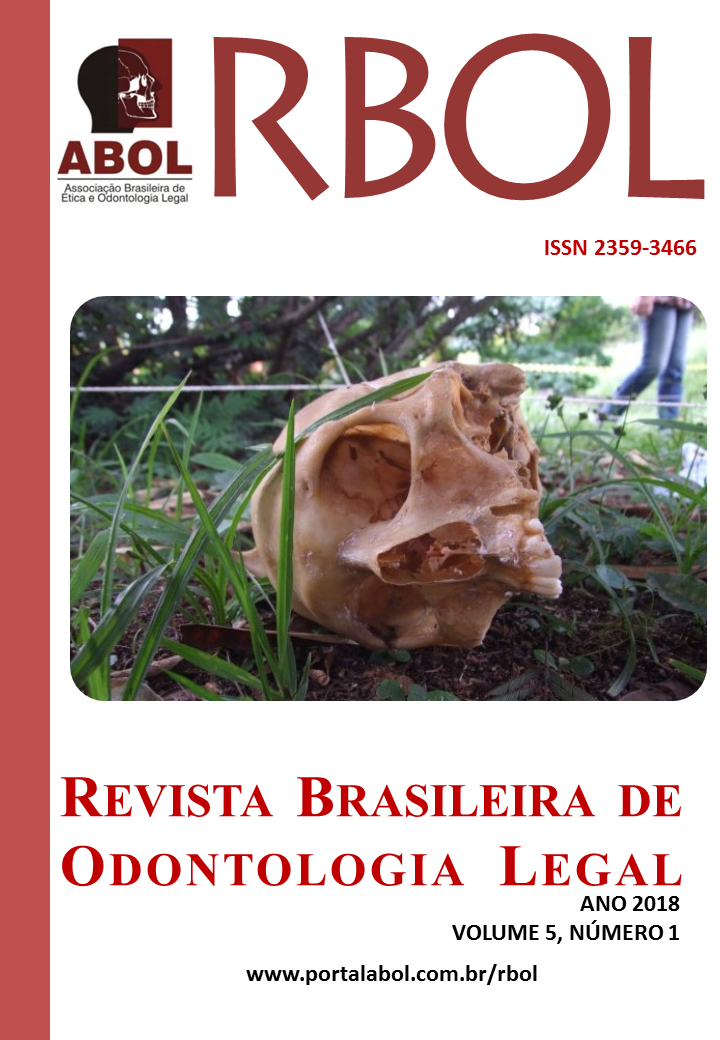 Downloads
Licença
Os autores deverão encaminhar por email, devidamente assinada pelos autores ou pelo autor responsável pelo trabalho, a declaração de responsabilidade e transferência de direitos autorais para a RBOL, conforme modelo abaixo.
DECLARAÇÃO DE RESPONSABILIDADE E TRANSFERÊNCIA DE DIREITOS AUTORAIS



Eu (Nós), listar os nomes completos dos autores, transfiro(rimos) todos os direitos autorais do artigo intitulado: colocar o título à Revista Brasileira de Odontologia Legal - RBOL.
Declaro(amos) que o trabalho mencionado é original, não é resultante de plágio, que não foi publicado e não está sendo considerado para publicação em outra revista, quer seja no formato impresso ou no eletrônico.
Declaro(amos) que o presente trabalho não apresenta conflitos de interesse pessoais, empresariais ou governamentais que poderiam comprometer a obtenção e divulgação dos resultados bem como a discussão e conclusão do estudo.
Declaro(amos) que o presente trabalho foi totalmente custeado por seus autores. Em caso de financiamento, identificar qual a empresa, governo ou agência financiadora.
Local, data, mês e ano.
Nome e assinatura do autor responsável (ou de todos os autores).